Koen Severens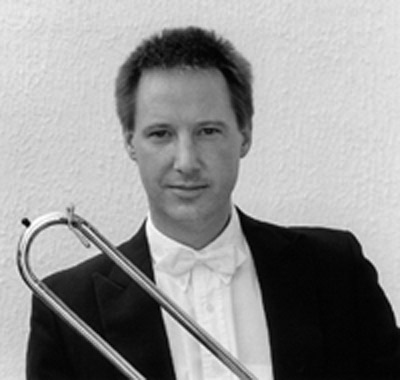 Koen Severens was the ideal representative for Belgium in l'Orchestre International des Jeunes and in het Wereldorkest van Jeugd en Muziek. He is appointed as trombonist with the symphonic orchestra of the Muntschouwburg. Together with Dirk van Gorp he forms part of a duo, called Kontrabone. His compositions were performed at the Royal Palace, La Monnaie, Flanders Festival, Bozar, deSingel, in Seville, Paris, China, Poland, Great Britain, the Netherlands, Germany and broadcasted on VRT, RTBF, NOS and BBC Radio as well as on FR3- television en VRT (Coda/De zevende dag)
Kontrabone
Thanks to its unusual constitution (double bass and trombone) Kontrabone has become a unique specimen in the music scene. Traditionally these instruments have accompanying function but Koen and Dirk show the public the spectacular and virtuoso possibilities of the trombone and double bass. In schools, Kontrabone regularly performs several short compositions with a totally different character: a tango from Astor Piazzolla, ballet music from Igor Stravinsky, an intimate Tom Waits or a bit of Baroque. For the most part they play their own compositions with highly imaginative titles such as 'Circus','Factory' and 'Carnival of sports'.
They tell about their lives as a musician in a large symphonic orchestra, how to found a group, about the instruments,
the music they play and the composers. The students get also the chance to ask questions.